A Golfer's Paradise
Ireland is a world-class golf destination famous for its links courses. The island has over 400 golf courses including close to 40% of the world's links courses. For the serious golfing enthusiast, traditional links golf offers a rich history, sweeping landscapes, salty sea air, rolling hills and rough treacherous enough to challenge golfers of all abilities. For more information on golfing in Ireland, visit www.golf.ireland.ie.
Golfing from Claunreasc House
Claunreasc House offers golfers a convenient, relaxing alternative to most golf vacation packages. With your own home base conveniently located in West Clare, Claunreasc allows you play the world's best courses without having to shuffle between bed & breakfasts with a large bus tour. With three of the world's foremost links courses mere minutes away, and more within reasonable driving distance, Claunreasc House offers a convenient and private home base for your ultimate golf vacation.
Claunreasc House is perfectly located in a golfers' paradise, conveniently situated between the three premier golf courses in Ireland: world renowned Ballybunion, historic Lahinch, and the Greg Norman designed Links at Doonbeg. All three courses are within easy driving distance from Claunreasc House. Also worth the drive are three more of Ireland's premier links courses: Waterville, Dooks, and Tralee. All three courses are approximately a 45 minute to 1.5 hour drive (Waterville a little further) through the gorgeous Irish countryside from Claunreasc House and are definitely worth the drive for the serious golfing enthusiast.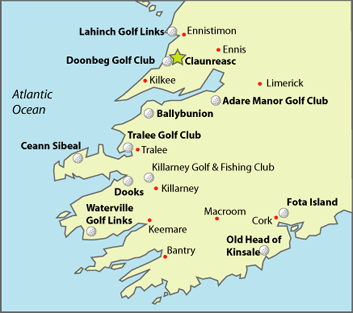 Doonbeg Golf Club
---
Lahinch Golf Club
---
Ballybunion Golf Club
Ballybunion Golf Club is approximately a 1 hour to 1hour and 15 minute drive south from Claunreasc House, across the Shannon River via the ferry. Arguably the most famous of all Irish links courses is the world renowned Ballybunion. Situated on the Atlantic coast of County Kerry, Ballybunion offers breathtaking scenery and unparalleled challenge for the avid golfer. Tiger Woods famously plays the Ballybunion course in order to prepare for the annual Open Championship.
"Having played the old course many times since my first visit in 1981, I am now of the opinion it is one of the best and most beautiful tests of links golf in the world." Tom Watson
"Placing golf courses of any kind of order of merit is a highly subjective process. But if sheer pleasure is the yardstick, then Ballybunion gets my votes as the best course in the world. For scenic beauty, peace, playing conditions, and the Irish golfing quality and challenge of nearly every hole is supreme." Peter Dobereiner
Contact Ballybunion Golf Club:
Office: 068-27842
From North America: 011-353-68-27842
Back to Top
---
Dromoland Castle
---
Worth the Drive
The following courses are a little further away than the three relatively local courses to Claunreasc House, but considering the breathtaking landscape along the drive and the quality when you arrive; these courses are definitely worth the effort.
Tralee Golf Club
---
Dooks Golf Club
---
Waterville Golf Club
---
Ceann Sibeal Golf Course - Dingle Golf Club
Each hole on this traditional championship links course is carved from the natural landscape, with hazards laid down long before the game of golf was dreamt of, including a winding "burn" that twists and turns through the entire course.
The most striking aspect of this course is the landscape of the Dingle Peninsula with hidden bays with small fishing villages, hills and mountains and the Blasket Islands out in the Atlantic. The Irish language is still spoken in this area.
Contact Dingle Golf Club:
Office: 66-915-6255
Fax: 66-915-6409
From North America: 011-353-66-915-6255
Back to Top